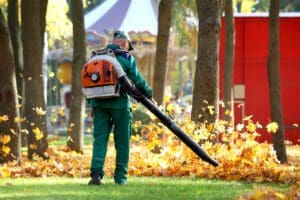 Leaf Removal Collinsville, Glen Carbon, Edwardsville IL
Do you need your yard cleaned up ahead of the warmer season? Do you have sticks that need to be removed, gumballs removed, or need someone to rake pine needles?  If you have large trees on your property, chances are you are going to have leaves piling up in the fall and winter doing damage to your property. As moisture is trapped beneath fallen leaves, mold, mildew, fungus, and an environment friendly to plant & tree diseases is spawned.
Additionally, bedded leaves also attract unwanted pests like rodents and hibernating snakes. If you have unwanted leaves on your property that you need disposed of, please give us a call today at 618-230-2466
We will get rid of those leaves for you.
Spring Cleanup by Experienced Lawn Care Professionals
Our spring cleanup service prepares your yard for the warmer months. Our standard spring cleanup includes ...
Clearing yard debris
Removing hanging branches
Cutting the grass
Edging sidewalks, walkways, patios, driveways
Reseeding areas
Pruning hedges, bushes, trimming as needed
Soil Aeration service
Custom plans are also available including weekly lawn mowing, weed removal treatments and more. Spring cleanup service prepares your yard for a great, healthy season.