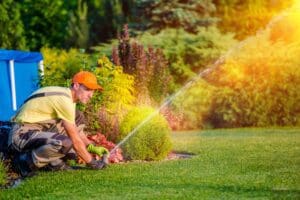 Excellent Landscaper in Collinsville Illinois
As a homeowner in the Metro East, you value your property and want to keep it up as well as possible. While you might enjoy getting out and working in the yard (or not), quality landscaping requires a lot of work that is characterized by consistency, an eye for detail, and a breadth of knowledge about grass growing, botany, plant health and nutrition, and a variety of other things.
At Collinsville Lawn Care, our friendly lawn care professionals and outstanding landscapers have years of experience in beautify yards and landscapes in and around Collinsville, Glen Carbon, Maryville, Edwardsville, Troy and the surrounding areas.
Whether you're in the market for lawn fertilization, regular lawn mowing, weed removal, weed control, leaf removal, spring cleanup, mulch installation, retaining walls or something else we can help!
Professional Lawn Care Company Edwardsville, Glen Carbon, Maryville
Collinsville Lawn Care connects you with the best lawn care professionals in Illinois. We are local small business owners with a family owned and operated lawn care service that will go above and beyond to meet your needs. Our friendly lawn care professionals will make sure your yard and landscape is taken care of to your complete satisfaction, whether you're in need of our famous fertilization services, grass cutting, weed eating, weed removal, edging, mulching, and much more.
If we can help you with professional landscape service in Collinsville, Edwardsville, Maryville, Pontoon Beach, Glen Carbon, or the surrounding Illinois areas please give us a call at 618-230-2466
We look forward to hearing from you today!