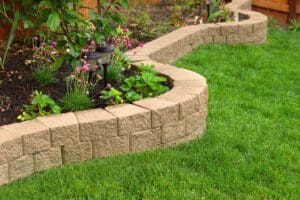 Retaining Walls Installed in Collinsville, Glen Carbon, Maryville, Edwardsville, Pontoon Beach, Caseyville & surrounding Illinois areas
Are you in the market for a new retaining wall? Collinsville Lawn Care will connect you with the best retaining wall builder in Illinois. We will build a sturdy retaining wall for you whether you need a small retaining wall for your garden in Collinsville or a large retaining wall to level-off portions of your yard in Edwardsville.
Our retaining walls are built with an eye for quality and to last you a lifetime. We use only the highest quality materials in each of our retaining wall construction projects. We will build a retaining wall for you in Illinois that will be both pleasing to the eye and crafted according to our very high standards of quality.
Excellent Retaining Wall Company in Illinois
At Collinsville Lawn Care, we understand the value you place on your property and that you have a choice when it comes to hiring lawn and landscape professionals. You will be connected with a local, small business owner that will treat you with the utmost care and respect, and will treat your property as if it were their own.
Contact us for outstanding service at 618-230-2466
We would love to speak with you about your retaining wall needs in Illinois, and look forward to build your brand new sturdy, beautiful retaining walls.